Authentic Spanish Paella Caterer in Austin, TX
Mi Paella Specialty Catering
The Flavors of Spain Brought Right to You
The Flavors of Spain brought right to you
Mi Paella Specialty Paella Catering is the vision of Chef Saúl Arteta
Try the authentic spanish paella in Austin, TX! There are a million different ways to have an event with friends. What we do makes your event stand out above the rest and creates an artistic and colorful experience that transcends just "food."
We focus on providing the highest quality ingredients and using fresh organic products to create a Spanish menu that transports you to the Mediterranean. Chef Saul creates menu's seasonally to ensure proper freshness of all dishes. We pride ourselves in the authenticity of the Spanish Cuisine that we represent.
With a specialty in Paella, Valencia native Chef Saul brings his home flavors on giant "paelleras" right to you. Along with an assortment of both classic and re-inspired Tapas, we are certain that your event will not only be delicious, but memorable.
Interested in having authentic Spanish Paella in Austin, TX for your celebration? ¡Perfecto! Email us now to start booking
MEAT PAELLA-
Pork Ribs, chicken, spicy Spanish chorizo, onions, red peppers, lima beans, green beans, Spanish paprika, homemade chicken stalk, and imported Spanish rice.
SEAFOOD PAELLA-
Calamari, mussels, clams, fish, shrimp, onions, red peppers, homemade fish stalk, Spanish paprika, imported Spanish rice.
MIXTA PAELLA-
Pork ribs, chicken, Spanish chorizo, calamari, shrimps, mussels, onions, red peppers, lima beans, green beans, paprika, homemade chicken stalk, imported Spanish rice.
VEGETARIAN PAELLA
- an assortment of fresh veggies, legumes, paprika, homemade stalk, and imported Spanish rice.
Meat and cheese selection, grapes, dried apricots, Marcona almonds...
Large events:
we provide catering for any sized event with top trained and certified staff to ensure the success of your event. Whether it be weddings, business parties, luncheons, bachelorette parties, or friends reunion, we cater to any style.
Small events:
For smaller events we provide sit-down dinner services and coursed out dinner options or cocktail style buffet of tapas while the paellas are live cooked in front of the guests.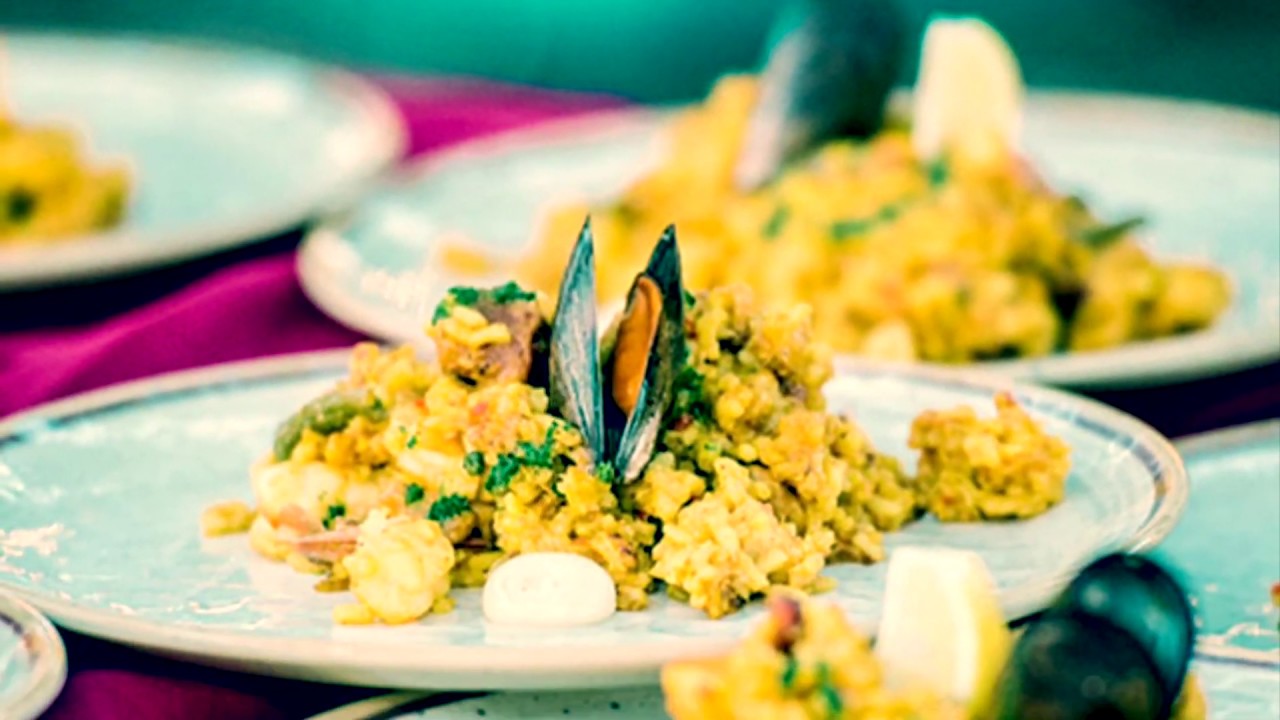 I never thought that hosting a dinner party for 24 guests in our home could be so easy and at the same time so much fun! With the team of Mi Paella Catering, everything was perfect.... the ambiance of the entertaining space, the delicious paella, the attention of the service staff and the selection of food. They guided me through many of the important decisions which make a successful dinner party and I appreciated her help. Our guests left the evening with words of delight......"fantastic party"...."great food and wine"....."excellent and attentive service".....and the Mi Paella Catering team deserved every accolade. We are already planning another event and look forward to lots of entertaining in the future with Mi Paella Catering!

- Ruth Ann Plotkin. 1/9/2020

Our only daughter was married this past Saturday. There is no one who has ever done such a professional job like Mi Paella Specialty Catering! We are so happy with the Chef and all of her fantastic staff. The presentation of the tapas and the paella stole the show! Our tables were abundant with the most delicious food and wine. The service was impeccable. As soon as I get photos from the photographer we will most definitely post them because the tables were so beautiful! Not only did everyone love the food but also admired the romantic ambiance created by the flamenco guitarist also provided by Mi Paella Specialty Catering.. Everyone agreed that they felt as if they had been transported to Valencia Spain, where paella was first made. We cannot express how wonderful the experience was as we watched the chef cook for us! And as if that were not enough, Mi Paella handled the the wedding schedule and made sure that the entire event ran smoothly from greeting the guests with drinks, to the cutting and serving of the cake. What more can we say? Plenty! Exquisite Food! Wonderful warm and caring service ! Mi Paella Specialty Cooking made the wedding unique, special, fun, and welcoming. You can't go wrong with them. We will definitely hire them time and time again!

We cannot thank them enough!

Eugenia and Jeffrey Jaffe

- Eugenia Jaffe. 2/16/2020

Let me start with the food. I don't even know where to start. The tapas were so flavorful and fun dishes. Easy to eat for being catered and mouth watering. The paella: BOMB! A median between a brothy paella and a traditional dry paella. It was the perfect blend of the two and the way it was presented on beautiful black dishes made it more enticing. Seafood was cooked to perfection and overall just.... no more words. It was a great day and she was hands down my favorite vendor. Cleaned everything up afterwards and approached me during the wedding to say thank you and goodbye. 12/10 would recommend.

- Raquel Suarez. 9/18/2019

Terrific food and service from start to finish! They also arranged for a bar tender for us at a reasonable cost. I would highly recommend them to anyone and would use them again anytime!

- STEPHEN CARSON. 6/16/2019

Chef Saul and team joined our family for our daughters 3rd birthday celebration. They helped create a warm ambiance and provided an impressive presentation of food and wine. The amazing aromas from all the delicious food filled our home inside and out. We all enjoyed every bite and we will definitely use them for our next event. Thank you very much Chef Saul and Mi paella team!

- josephine Vasquez. 4/22/2019
Call us today and book your event!