Executive Chef & Co-owner
Chef Saul Arteta's culinary passion stems from a creative life both inside and outside of the kitchen. This curiosity within the creative world led him to different corners of the world..pockets of gems that taught him not just flavor, but elegance, and awe within the dining experience. Arteta, has cooked not only in his native Valencia, Spain, but in Thailand, Brussels, France, and now Austin, TX. He has worked with Thai Fresh, Malaga, and Barlata. While working in the fast paced world of restaurants was challenging, Saul saught to construct an evening of dining that was a bit different. He wanted to bring the restaurant to the people, and bring his specialty Paellas to be part of an experience. He cooks the larger than life paellas right there infront of you to open the floor to conversation, awe, smells, and a true sharing of an evening.
Wine Chemist & Sommelier, Sisi Berry, began her journey as a Biology major who found herself in the biochemistry of wine after picking up a job in the wine biz in college. Her love affair with wine was more stemmed (no pun intended) in viticulture and enology as she found a sense of union in the fascinating worlds of earth and science. Connecting nature to man's hands and mind was not just a scientific process, but a rather philosophical one. She went on to take this passion and continue her education in Spain where she worked in several vineyards during harvest season and in the cellars in Penedes, Bierzo, Mallorca, Ribera del Duero, and Priorat. During her time working in Spain, she acheived her Sommelier certification. Upon her return to the States, she was accepted to UC Davis. Sisi is a firm believer in the sharing and healing power of wine. While being one of the most intellectual and romantic of potions, she finds it to be a force of time. Wine is a not just about the drink, but a time capsule inviting you to sit, slow down, and share something.. anything with someone. With that feeling in mind, Sisi began giving wine classes and gathering groups of people that wanted to learn more about wine, and enjoy lovely company. Her goal is to share the wonder and intricacy of wine with others so that they too may feel more often invited to slow down, and simply enjoy.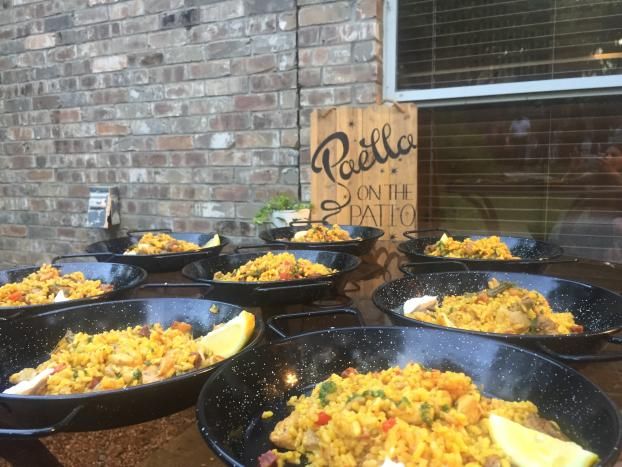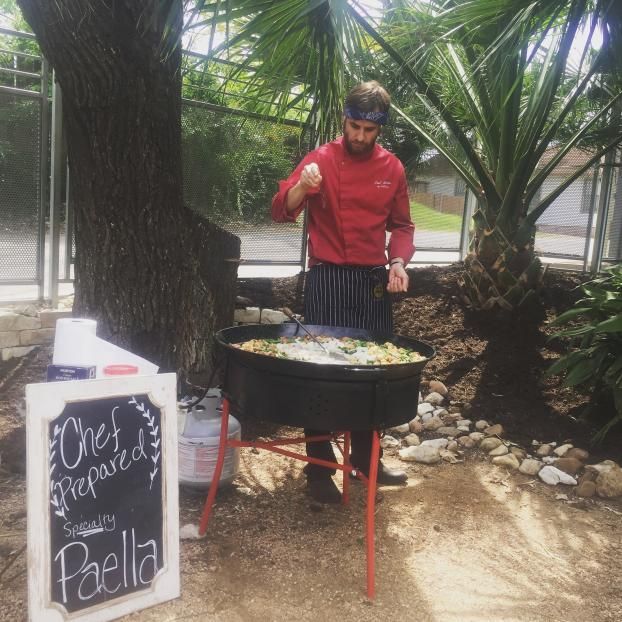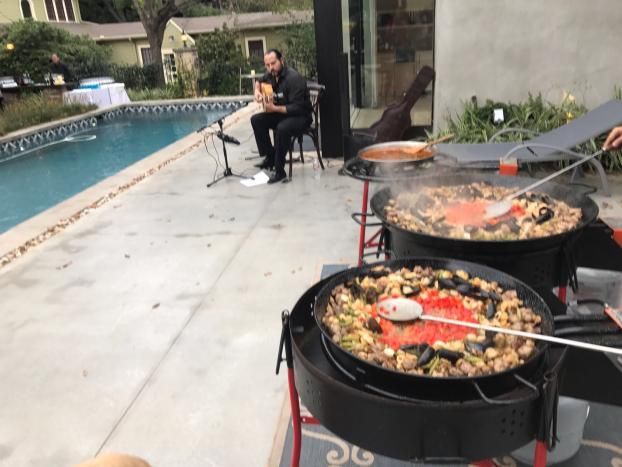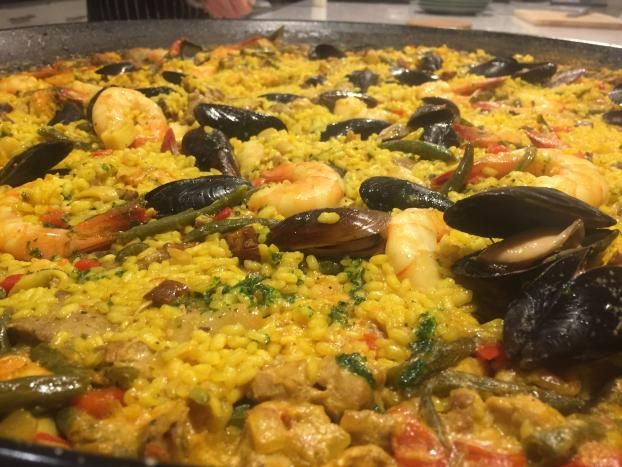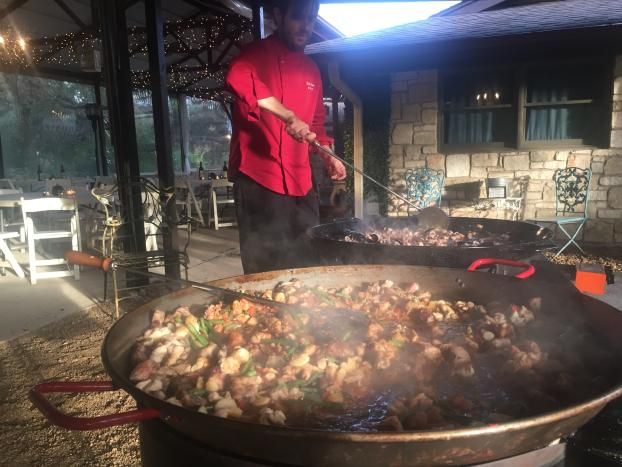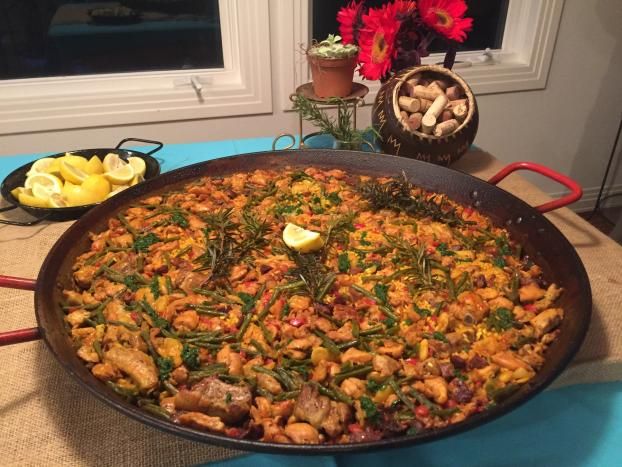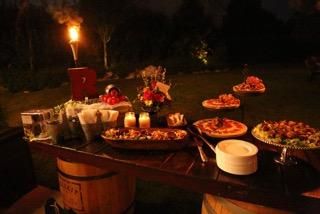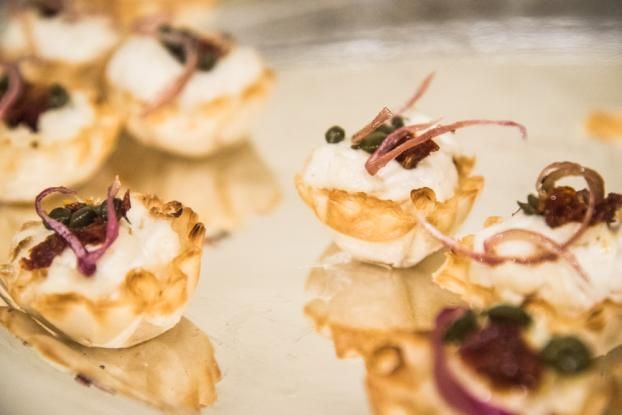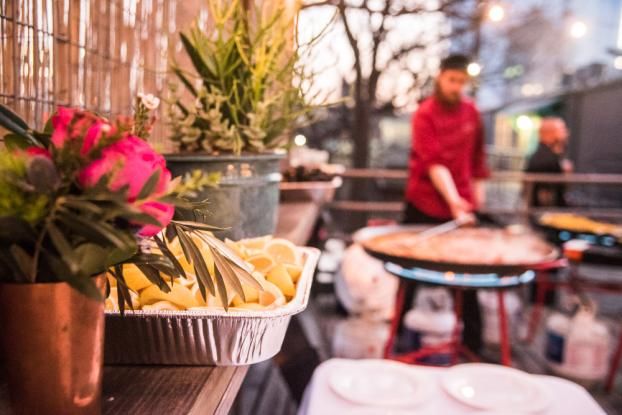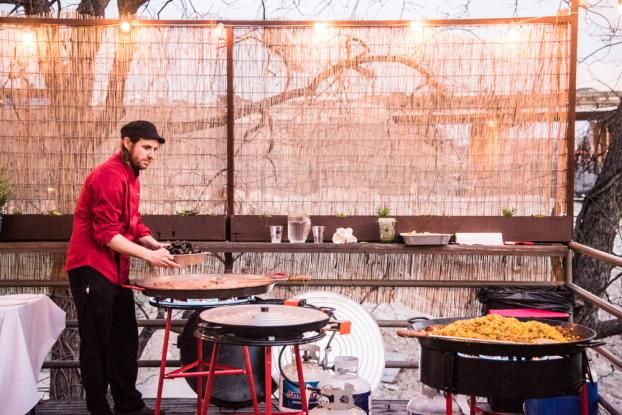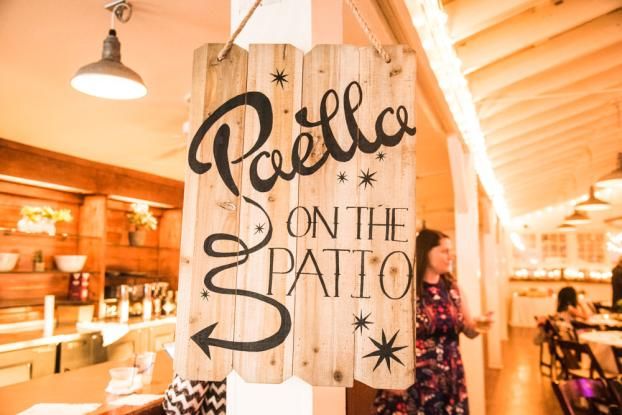 The magic is in the details
Paella takes time. We make from scratch in front of you to share those magical parts that no one gets to see. The ingredients, the technique, and the love.
Our only daughter was married this past Saturday. There is no one who has ever done such a professional job like Mi Paella Specialty Catering! We are so happy with Sisi , the Chef, and all of her fantastic staff. The presentation of the tapas and the paella stole the show! Our tables were abundant with the most delicious food and wine. The service was impeccable. As soon as I get photos from the photographer we will most definitely post them because the tables were so beautiful! Not only did everyone love the food but also admired the romantic ambiance created by the flamenco guitarist also provided by Mi Paella Specialty Catering.. Everyone agreed that they felt as if they had been transported to Valencia Spain, where paella was first made. We cannot express how wonderful the experience was as we watched the chef cook for us! And as if that were not enough, Mi Paella handled the the wedding schedule and made sure that the entire event ran smoothly from greeting the guests with drinks, to the cutting and serving of the cake. But best of all Sisi is the best troubleshooter there is for the unexpected things that can happen at any event! She made sure that we were never nervous and that we enjoyed the evening as well. What more can we say? Plenty! Exquisite Food! Wonderful warm and caring service ! Mi Paella Specialty Cooking made the wedding unique, special, fun, and welcoming. You can't go wrong with them. We will definitely hire them time and time again! We cannot thank them enough! Thank you Sisi!!!! Eugenia and Jeffrey Jaffe

- Eugenia Jaffe. 2/16/2020

I never thought that hosting a dinner party for 24 guests in our home could be so easy and at the same time so much fun! With the expert assistance of Sisi, and her team of Mi Paella Catering, everything was perfect.... the ambiance of the entertaining space, the delicious paella, the attention of the service staff and the selection of wines. Sisi guided me through many of the important decisions which make a successful dinner party and I appreciated her help. Our guests left the evening with words of delight......"fantastic party"...."great food and wine"....."excellent and attentive service".....and the Mi Paella Catering team deserved every accolade. We are already planning another event and look forward to lots of entertaining in the future with Sisi and Mi Paella Catering!

- Ruth Ann Plotkin. 1/9/2020

Let me start with SiSi's overall presence: she was an angel and a business woman all in one. So professional and had the most amazing way of fitting 5 or 6 people in a small kitchen while the bride was doing her hair without overcrowding or being invasive. She approached me on the day of our wedding, shook my hand and ensured me she had her best chefs here to make our wedding the most amazing day. The her and her team came in and did their thing. ALL of them were so much fun and lively and just had a way of making you feel like someone was cooking a feast on Christmas morning. Now the food. I don't even know where to start. The tapas were so flavorful and fun dishes. Easy to eat for being catered and mouth watering. The paella: BOMB! A median between a brothy paella and a traditional dry paella. It was the perfect blend of the two and the way it was presented on beautiful black dishes made it more enticing. Seafood was cooked to perfection and overall just.... no more words. It was a great day and she was hands down my favorite vendor. Cleaned everything up afterwards and approached me during the wedding to say thank you and goodbye. 12/10 would recommend.

- Raquel Suarez. 9/18/2019

Terrific food and service from start to finish! They also arranged for a bar tender for us at a reasonable cost. I would highly recommend them to anyone and would use them again anytime!

- STEPHEN CARSON. 6/16/2019

Chef Saul and Sisi joined our family for our daughters 3rd birthday celebration. They helped create a warm ambiance and provided an impressive presentation of food and wine. The amazing aromas from all the delicious food filled our home inside and out. We all enjoyed every bite and we will definitely use them for our next event. Thank you very much Chef Saul and Sisi.

- josephine Vasquez. 4/22/2019

Sisi and Saul are not only professionals in the food and catering industry, but they are also wonderful individuals, easy going, fun and loving. They took care of every single detail during the preparation for our wedding reception. The result was an amazing experience for us and our guests. Their menu of tapas and paellas is delicious and colorful and the service offered by their team has no comparison. Highly recommended, they deserve more than five stars!!

- Rosa Elena Robin. 8/19/2018

SiSi and Saul provided a beautiful and fantastic 60th birthday party! We were so pleased! The appetizers not only tasted great but the presentation was very beautiful. Saul cooks the paella outside and all the guests are able to watch and learn. Makes for such a fun event! But, the paella is the best part. We had one meat and one seafood. The flavors are fantastic and we savored every bite! It was a memorable party! Thanks to SiSi and Saul!

- Gail Worrell. 7/28/2018

Sisi and Chef Saúl made one of the best paella's that we've ever experienced. The meal had a selection of ingredients that were fresh and flavorful making the paella really unique. Sisi was great about communicating with us, setting up and packaging leftovers that we enjoyed well into the next week. Highly recommend. They are the real deal.

- Preston Conroy. 4/23/2018

Absolutely delicious, authentic paella. And the staff is super courteous and professional. My party of 100 people was floored by the taste and presentation. Highly recommended if you want to impress your people!

I have been in the event industry in Austin for 13 years and am always on the hunt for new and exciting vendors. Mi Paella delivers on that! Not only are they incredibly responsive during the planning process, the food is out of this world delicious with fabulous & authentic presentations. They provide such a great experience for guests during the event. Being able to make a corporate event feel like a family event is no easy task and I couldn't say enough how perfect they were for the evening. I am so glad that I found them and will continue to use them for future events, including my own personal ones. :)

I have had Mi Paella come out to my home on two occasions now and they do not disappoint. Their food is FABULOUS and our guests really enjoy getting to see Saul's process of making the paella. Sisi is extremely knowledgeable about wine, which came in handy for us one night when hosting a wine club party. Both Saúl and Sisi are lovely people and we can't wait to have them over again for more amazing Spanish food experiences!

- Paula Greenfield Burns. 6/29/2017

Saul makes paella that's only rivaled in Spain and Sisi's wine pairing was perfect!

- Andrew Johnson. 5/19/2017
By appointment, Every Day